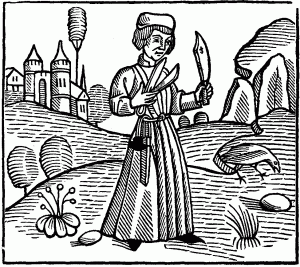 Thanks to the generosity of Lady Serafina Della Torre and Lord Symon of Barnsdale, the thrown weapons range will be open all weekend. Whether you are new to thrown weapons or an experienced arm, we will have something for you. We encourage everyone to bring their own weapons for throwing, and we plan to have a limited amount of loaner gear available.
Please visit the East Kingdom Thrown Weapons page for more information about range rules, royal rounds, weapons, and throwing technique.
No authorizations are necessary, and the range is open to anyone age 5 and older. However, youths between the ages of 5 and 17 must be accompanied by a parent or legal guardian while the child is throwing — no exceptions. The adult accompanying the youth must be the parent or legal guardian, not another family member or friend. This will be strictly enforced.
The thrown weapons range is located on the northern end of the site, to the left of the battlefield, off of Thunder Road.
This year, the Great Northeastern War is hosting the King's and Queen's thrown Weapons Championship Tourney. When the range is open you may throw to qualify for the Tourney. You may throw three qualifying rounds, of which the best will be selected. The top 16 throwers will qualify for the tournament to be held on Saturday afternoon. A qualifying round is structured similar to a Royal Round, throwing four throws in each of the three weapons forms at each of the two distances. Once you have declared you are starting a qualifying round, however, you must complete all your throws in succession with no breaks or practice in between.
Additionally – your qualifying throws will count toward the war effort! Declare who are you are throwing for, and your best score will be counted toward the Thrown Weapons war point. The scores will be tabulated together and the points awarded to the side that receives the highest total.
Marshals in Charge: and
Thrown Weapons Schedule
Thursday
5:00 – dusk: Range Open
Friday
10:00 am – noon: Open Range, Royal Rounds, K&Q Qualifying
1:00 pm – 7:00 pm Open Range, Royal Rounds, K&Q Qualifying
7:00 pm: Range closes for tourney set up
8:00 pm: 30 glow stick tourney (Axes only, restricted to ages 12 and up)
Saturday
9:00 am – noon: Open Range, Royal Rounds, K&Q Qualifying
1:00 pm – 5:00 pm: King's and Queen's Championship Tourney
After Court – dusk: Range Open for All
Sunday
9:00 am – 11:00 am: Range open for Royal Rounds only