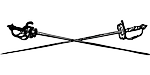 Period rapier combat is often described by those who first see it as "Three Musketeers" style of fencing, or "fencing in the round", but it is really the study of a style of rapier combat that predates the Musketeers by several hundred years.  With a dual focus on accurate historical style and modern safety, the study of period rapier combat is a wonderful way to begin to understand the life of the renaissance mind.
Recent Articles about Fencing:
Lords and Ladies, lads and lasses, all gentles who enjoy the fun and excitement of the battlefield but don't enjoy participating in the fighting -…
Upcoming Fencing Practices and Events:
There are no upcoming events to display at this time.