Great Northeastern War is an annual event sponsored by The Province of Malagentia, which is the Southern Maine chapter of The Society for Creative Anachronism, Inc. (SCA). It is a recognized SCA event, and all SCA rules apply. Anyone may attend Society events provided he or she wears an attempt at pre-17th century dress, conforms to the provisions of the By-Laws and Corpora, complies with any other requirements (such as site fees or waivers) which may be imposed by the Society, and behaves as a lady or gentleman. (If you are not familiar with the SCA and its rules, please take a moment to read the What Is The SCA? page. Further links are provided at the end of that section.)
Great Northeastern War is an SCA camping event, which means that the majority of the attendees will be sleeping in tents. Modern camping equipment is acceptable at an SCA event; while all attendees must wear an attempt at pre-17th century clothing, medieval-style tents and camping equipment are not in any way required. If you do not wish to camp, you are also welcome to stay in a local hotel or motel and visit the site on a daily basis. No food is provided as part of your admission fees at Great Northeastern War; guests are responsible for making their own eating arrangements.
Great Northeastern War is in large part, a war practice event, which means that one major activity at the event will be a form of combat based on the tournaments of the High Middle Ages.  Participants wear replica armor, and use weapons made from rattan.  In order to participate in combat activities at this (or any) SCA event, you and your equipment must be authorized by a Society-approved safety officer.  In order to become authorized for combat activities, you must show a working knowledge of SCA combat rules and regulations, your armor and other protective equipment must meet SCA standards, and you must prove to SCA-approved safety officers that you are not a hazard to yourself or others.  You must also be at least 18 years of age.  Some training is normally required before participants can meet these authorization standards.  Please do not expect to participate in combat activities if this is your first SCA event. And for those who don't want to wield rattan, there's also Fencing, with rapiers and other light swords. All participants have passed safety training and equipment inspections. There will be opportunities to watch – the Tavern Brawl is great fun for participants and spectators!
There are other marshaled activities you can participate in without pre-approval and authorization cards. Archery is available and very popular, and thrown weapons challenges are open to all who sign the appropriate forms. Children can participate in both with parental assistance.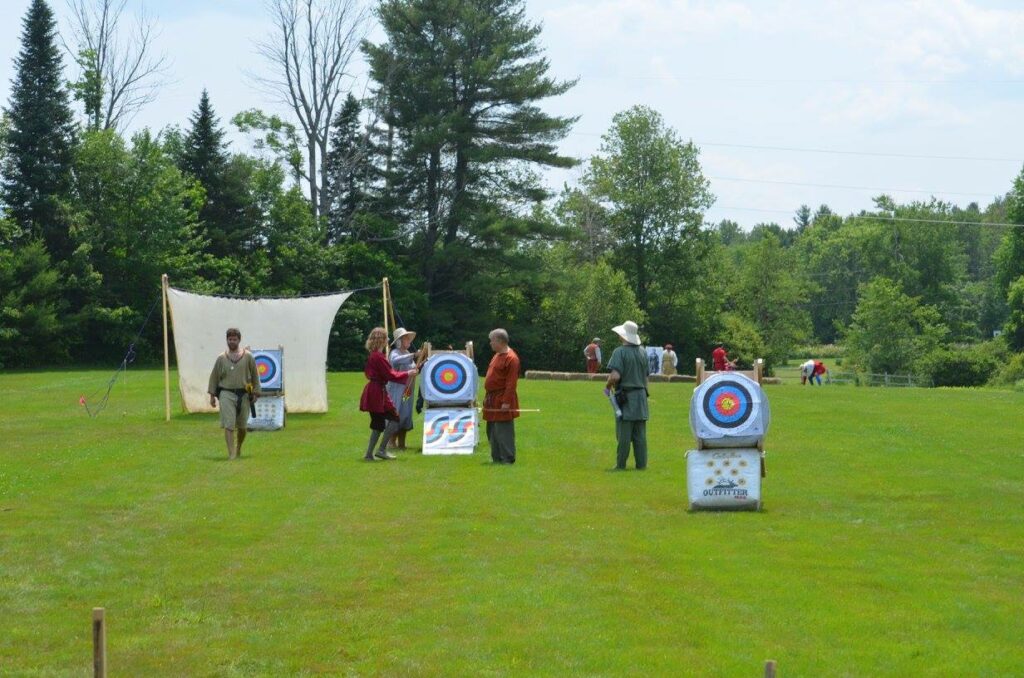 Great Northeastern War provides plenty of other activities besides combat! Classes in topics related to the Middle Ages and our recreation of them will take place throughout the weekend. There will also be an Arts & Sciences competition, where modern artifacts made in the Medieval style will be exhibited and judged. Classes and competition in Medieval-style archery will take place. There will be a Royal Court, where the King and Queen grant awards to worthy gentlefolk. Bards can be found who might be entertaining with a story or music from the past. Merchants, selling all types of wares useful to the recreationist, will be open throughout the weekend. Renaissance dance and music will be taught and performed. And, all weekend, you will meet and mingle with others who are interested in learning more about history in a hands-on way, and who are spending a weekend transported from their everyday lives.
If you have additional questions about Great Northeastern War, please contact the event coordinator.