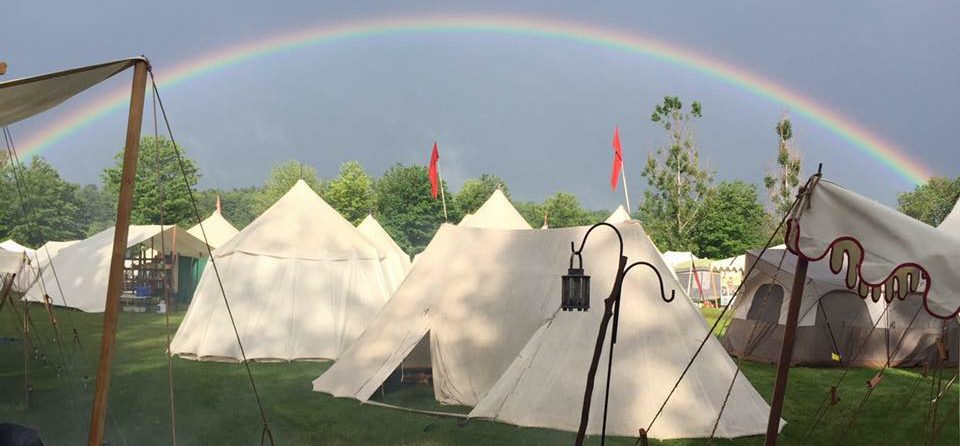 GNE XXXIV
GNE 34 (2022 edition) is currently in the planning stages. See the event listing on the East Kingdom calendar.
Date: 14-17 July 2022
Pre-Registration is OPEN! So excited, can't wait to welcome you all home to Camp!
This is not a pre-registration only event, though we are highly encouraging you to do so to speed entry through gate. All EK and SCA COVID-safe policies will be in place and strictly adhered to.
Pre-registration will be open through 11:59:59PM, July 3, 2022.

East Kingdom PayPal Pre-Registration Link: https://surveys.eastkingdom.org/index.php/844389
A PayPal invoice will be generated within 24 hours of the online preregistration information being submitted. Online preregistration is not complete until the PayPal invoice has been paid.
For more information on pre-registration and gate fees, go to the pre-registration page here.
Come spend a few days with a few hundred of your friends – we have space and fresh air available to reconnect with friends you haven't seen in a while. The usual things you expect at GNE will be there, and I'm sure there will be a few surprises too. We are really looking forward to it.
If you would like to teach a class please sign up here: https://gneuniversity.org (if you have ever taught at Pennsic, this will look familiar.) Contact the class scheduler via e-mail at . You can also use the link to see class schedules when they are completed.
Want to get a spot on Merchant's Row? Use this handy form to request a space. https://forms.gle/R2yVKujr6kK1Ycj2A . (If you serve food, please note that the State of Maine has some licensing requirements.) To contact the merchant coordinator, please e-mail: .
In order to put an event of this size on, we will need your assistance. Perhaps you have an hour or two to check vaccinations and COVID tests before gate, or you'd like to help people out and keep an eye on things with the overnight watch. Water bearing for fighters will be different, but we'll still need help getting that done. And as always, setup and teardown after are big jobs that need hands and labor to get done.
An important note: Gate pre-registration is now open. You have the option to pay via PayPal or at the gate, WITH EXACT CHANGE or A CHECK. We cannot accept credit or debit cards on site. Pre-Register to make the gate faster and avoid crowding. GNE does not have any land grab, camping space allocation is first come, first served, even if you pre-register. We do ask that you do not try to reserve excessive camping space, and be polite with your neighbors.
Although the SCA complies with all applicable laws to ensure the health and safety of our event participants, we cannot eliminate the risk of exposure to infectious diseases during in-person events. By participating in the in-person events of the SCA, you acknowledge and accept the potential risks. You agree to take any additional steps to protect your own health and safety and those under your control as you believe to be necessary.

~Lord Aloysius Sartore – Event Steward

---
THE SCA PROHIBITS HARASSMENT AND BULLYING OF ALL INDIVIDUALS AND GROUPS.
Participants engaging in this behavior are subject to appropriate sanctions. If you are subjected to harassment, bullying, or retaliation, or if you become aware of anyone being harassed or bullied, contact a seneschal, President of the SCA, or your Kingdom's Board Ombudsman. Per the Society Seneschal, July 17, 2017.
---
This is the recognized web site of the Society for Creative Anachronism, Inc. and is maintained by the Province of Malagentia. This site may contain electronic versions of the group's governing documents. Any discrepancies between the electronic version of any information on this site and the printed version that is available from the originating office will be decided in favor of the printed version. For information on using photographs, articles, or artwork from this web site, please contact the Webminister at . He/She/They will assist you in contacting the original creator of the piece. Please respect the legal rights of our contributors. Copyright © 2022. The original contributors retain the copyright of certain portions of this site.
---