Fencing – or historical sword combat — is often described as the type of fencing you'd see in movies such as "The Three Musketeers" or "The Princess Bride."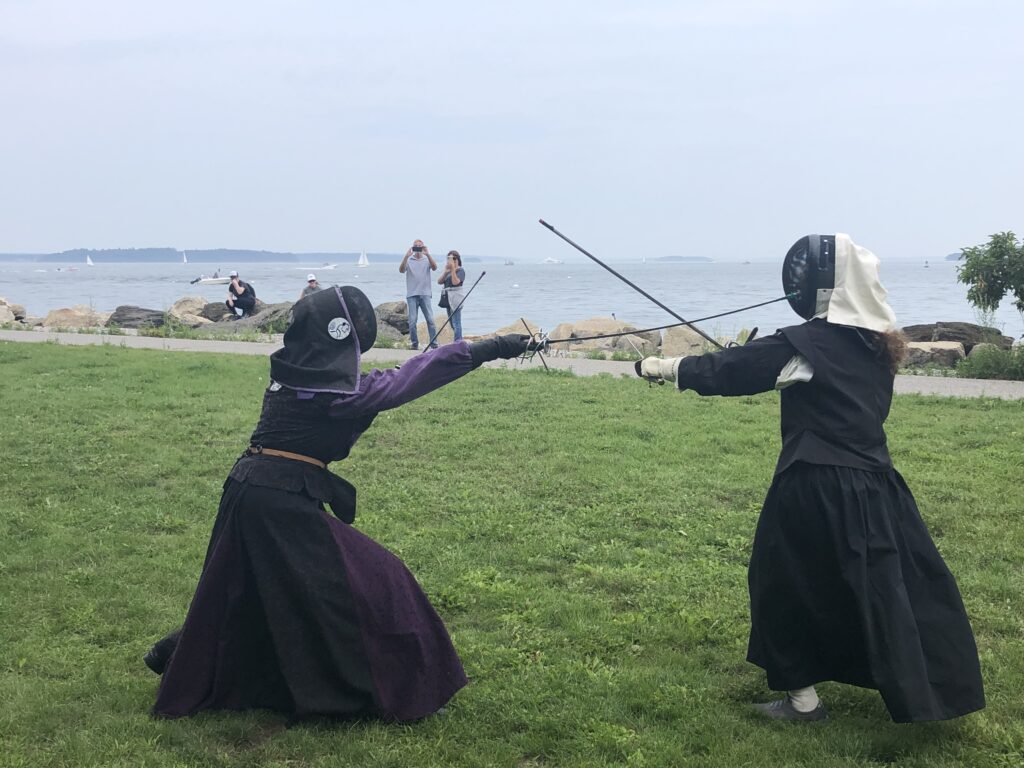 We study translated historical fencing manuals from the middle ages, including but not limited to Capo Ferro, Gigante, Agrippa, Morrotzo, Fabris and more. As we practice what we learn and teach, we use rapiers, daggers, cloaks, bucklers and more that all closely replicate the weapons of the time; but, our weapons are blunted, and we use modern fencing gear (masks, etc.) to keep everyone safe – our primary goal!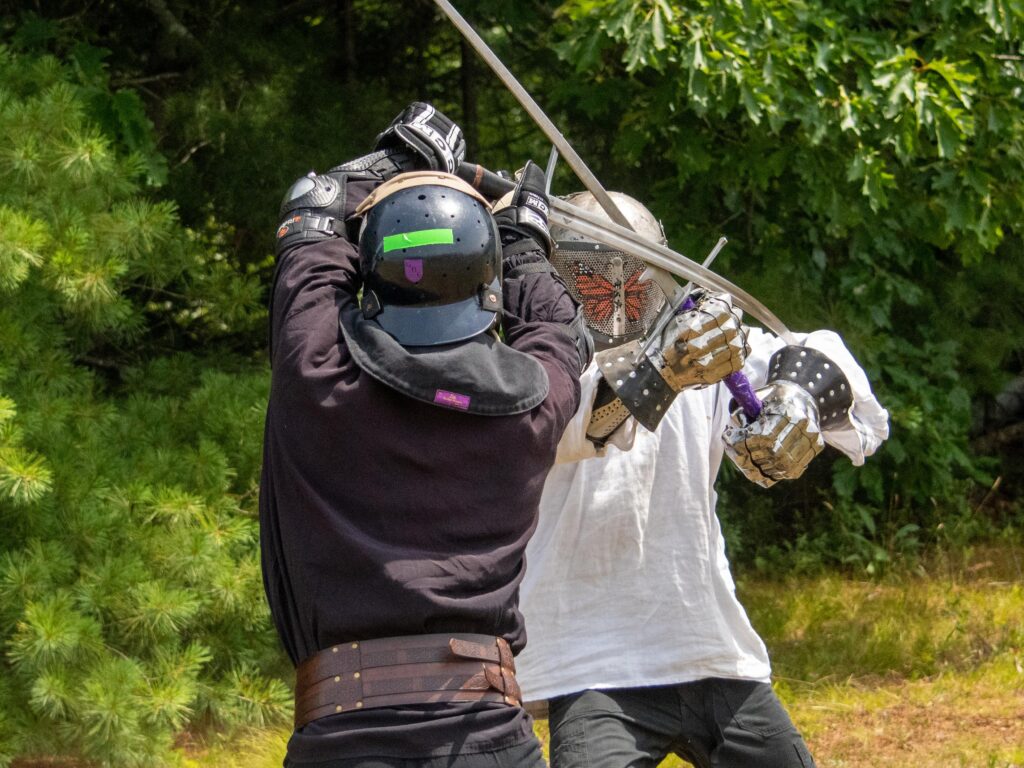 In addition to classic Italian, Spanish or German rapier, many of our members also study and practice more percussive forms of swordplay, such as Italian or German longsword, and sword-and-buckler, under the overall heading of "Cut-and-Thrust." We have many experienced instructors who are happy to work with new students and share our enthusiasm for historical swordplay! Please come by a practice and see what we're all about!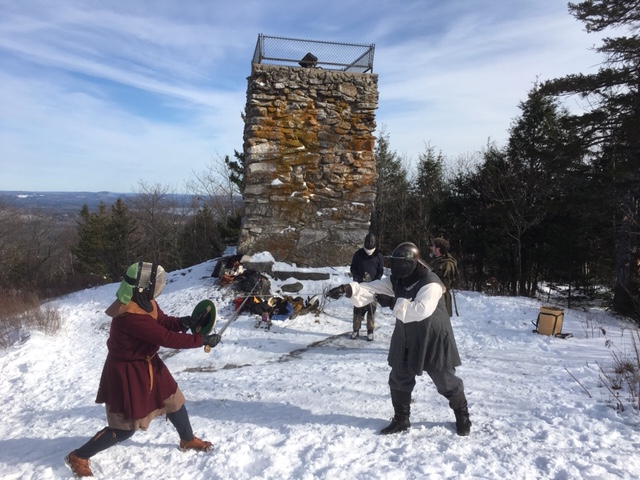 For our new fencers, we have a variety of loaner gear that will help you get started – including fencing jackets, fencing masks, throat protection (called 'gorgets') and loaner rapiers and longsword. Newcomers will not need any gear for several practices, but soon will need to procure appropriate groin protection, and, if interest in the hobby grows, will want to start considering buying their own gear such as gorget, fencing mask, etc. Here's a handy document that tells you a bit more about how to procure equipment, when you're ready.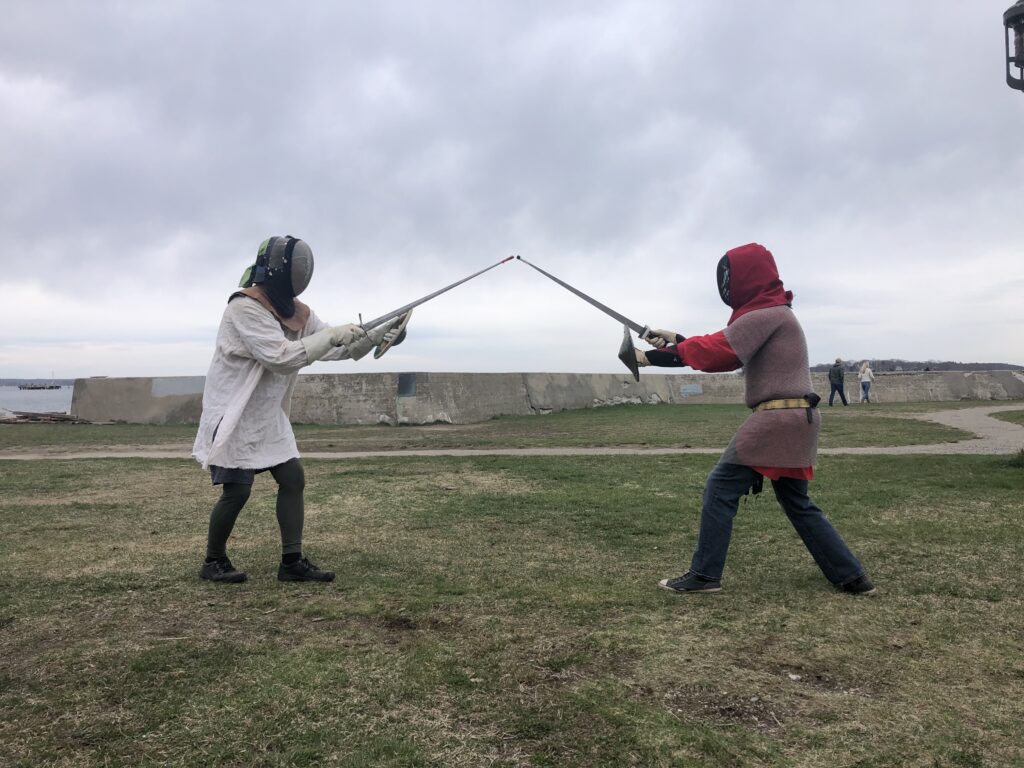 During the summer months (Mid-May through Early September) our practices are held outside at Payson Park in Portland on Baxter Boulevard, at the foot of the sledding hill. The rest of the year, we are inside the Sullivan Gym at the University of Southern Maine. Practices are Tuesday nights, 6-8 p.m. Throughout the year, we have a number of SCA events throughout the region where you can go, after some practice and learning, to meet new people and cross blades with them in a friendly way on the field! Take a look at this document for more information on that.
People who would like to learn more about historical fencing can visit the East Kingdom's Rapier Combat web page or join the Malagentian Rapier Study Page on Facebook. You can also search YouTube for "SCA Rapier." Some books you may be interested in include "The Art of the Rapier," by Ken Modeschein or "The Art and Practice of Fencing," by Tom Leoni.
We have a number of vastly experienced teachers in Malagentia who are happy to work at practice with new students, including Col. Christian Woolfe, Master Scamus O'Neal, Maitresse Camille DesJardins, Sir Ivan and Don Wyck, to name a very few.