To read about the policies on minors attending Great Northeastern War, please click here.
Great Northeastern War 31 will host many activities where all youth, age 17 and under, will be readied for preparation of service to King and Society. All of our young offspring will have the opportunity to assemble in friendship, fellowship and belonging. The opportunity to seek the way of arms and armor and / or, if they are a learned young mind, pursue arts, crafts or sciences!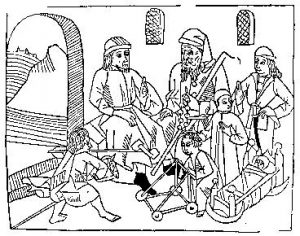 Volunteers are always welcome, and teens who would like to spend some time working in partnership with an adult supervisor would be especially helpful.
Per East Kingdom Law, children age 12 and under must be supervised at all times while attending SCA events. Certain activities may require that a parent or legal guardian be present during the activity. In addition to the activities listed here, many classes offered by the Great Northeastern University are open to students of all ages – please see the class listings for details.
More information about youth activities will be coming soon.