To read about the policies on minors attending Great Northeastern War, please click here.
Great Northeastern War 31 will host many activities where all youth, age 17 and under, will be readied for preparation of service to King and Society. All of our young offspring will have the opportunity to assemble in friendship, fellowship and belonging. The opportunity to seek the way of arms and armor and / or, if they are a learned young mind, pursue arts, crafts or sciences!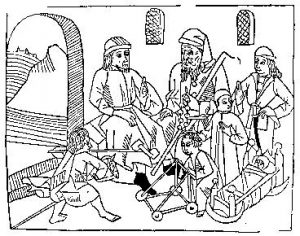 Volunteers are always welcome, and teens who would like to spend some time working in partnership with an adult supervisor would be especially helpful.
Per East Kingdom Law, children age 12 and under must be supervised at all times while attending SCA events. Certain activities may require that a parent or legal guardian be present during the activity. In addition to the activities listed here, many classes offered by the Great Northeastern University are open to students of all ages – please see the class listings for details.
Again this year, we have opened a Youth Point tent, located near the battlefield and very close to the merchant area. The youth point tent is designed as a shady spot for youth and parents to meet and play together. The tent will feature books, games, puzzles, and other activities for youth to use. We encourage families to come to the point to meet other SCA families, but supervision is not provided. We ask that every respect each other, that elders help the youngers, and use the space and materials provided respectfully.
To volunteer or to learn more about children's activities at Great Northeastern War, please contact the Youth Activities Coordinator, Lord Thomas de Marr.
Youth Activities
Youth Muster and Meet and Greet
Thursday: 6 pm, Youth Point
Come and meet other SCA families on Thursday evening to hear what opportunities lie ahead for the war youth of GNEW 31. This is a family event and will be presided over by Lord Thomas de Marr. Warriors will share stories, songs will be sung, games will be played! Pasties and fruit will be offered but please feel free to bring a morsel to share!
Youth Archery
Ongoing, throughout the weekend, Archery Range
The Archery range welcomes youth over the age of 5 whenever the range is open. Please speak with a marshal about proper supervision at the archery range. All archery shoots are open to archers of all ages and abilities. New archers are welcome, and specific instruction time for new archers is listed in the archery schedule.
Youth Thrown Weapons
Ongoing, throughout the weekend, Thrown Weapons Range
Whether you are new to thrown weapons or an experienced arm, thrown weapons is available for people of all ages. No authorizations are necessary, and the range is open to anyone age 5 and older. Youths between the ages of 5 and 17 must be accompanied by a parent or legal guardian while the child is throwing — no exceptions. The adult accompanying the youth must be the parent or legal guardian, not another family member or friend. This will be strictly enforced.
Youth Embroidery Challenge
Thursday – Saturday, Information Point
WHEN IN ROME… "Si fueris Rōmae, Rōmānō vīvitō mōre; si fueris alibī, vīvitō sicut ibi ("if you should be in Rome, live in the Roman manner; if you should be elsewhere, live as they do there") – St. Ambrose, 4th century. In honor of our most glorious King and Queen, create an embroidery piece incorporating the feather and Roman 'H' of our Queen's favor. Projects do not have to be finished to be included in judging. All projects MUST be turned in by the end of court on Saturday. Please drop off finished projects in the blue-lined basket in the A&S barn during the day Saturday, or directly to Aloysius (who will be by the barn porch with said basket at the end of court). Winner will be announced at closing ceremonies on Sunday.
Youth Armored Combat
Friday: 9 am – 11 am; Youth Field near Youth Point
Saturday: 9 am – 10 am: Youth Field near Youth Point
Marshal in Charge: Lord Thomas De Marr
Calling all young warriors! Friday will have pickups and group tactics, culminating in a bridge battle. Saturday morning shall be the Barrier of Might and a Tavern Brawl! Per SCA rules, a parent or guardian must be present during all youth combat activities.
If you are a youth marshal, we would love to have your help. Please contact to volunteer.
Per East Kingdom rules, minors participating in Youth Combat must either have a parent present at the event/activity, or a responsible adult, designated by the parent, present and in possession of a properly executed "Medical Authorization Form for Minors" and a signed waiver as needed. The medical authorization form must designate an adult, present at the event or activity, as able to authorize medical treatment in the case of emergency (a form of temporary guardianship).
All youth fighters will need to bring their own equipment, as loaner gear will not be available.
Complete East Kingdom Youth Armored Combat rules are available at this link.
Youth Combat Archery – Battle of Badon Hill
Friday: 1 pm – 2 pm; Former Bardic Grove
Marshals in Charge: Lord Thomas de Marr and Lord Samuel Peter Bump
Youth ages 5 and up. Parents must help their young ones load their crossbows, which will be fun for the whole family. Defend the hilltop from the charging knights are are armed with buckets of water and wet sponges. Don't let them get close enough to throw a wet sponge at you, YOU MIGHT GET WET! Using crossbows our ferocious youth must defend the ridge to the last man.
Youth Arts & Sciences Exhibition (War Point)
Saturday. Sign in at 11:00 AM; Exhibition 11:30 am – 2 pm.
Young Scholars and Artisans of the East are invited to display their work in a Grand Arts & Sciences Exhibition and compete for a War Point with their effort! Each entrant in the Grand Exhibition will earn five (5) points toward winning the exhibition for their declared side. In addition, each comment card filled out by viewers of the exhibition will earn one (1) point toward winning the exhibition for the commenters declared side. All members of the populace are invited to bring small tokens to gift to youths they feel have done exemplary work, so that the youth of the East may better know that they are part of the great community of artisans and scholars for which the East is so well known. Children and youth of ALL ages are most welcome to participate, and adult-child joint projects may also be submitted for display. At the close of the exhibition, the points
will be tallied and the side with the most points will earn one war point.
Completed or in-progress work of any variety is welcome, and documentation is always lovely but never required! We'll have some basic "worksheet" style documentation sheets you can fill in with information, if you have it in your head but not on paper. If you were influenced by an existing piece, however, bringing a photo of the work that inspired you is always a nice addition to a display.
The Exhibition will be open to the public for commenting on Saturday from 11:30 am to 2 pm in the barn. Entries must be signed in at the Main Barn on Saturday between 11:00 and 11:30 am and must be picked up on Saturday afternoon between 2:00 and 2:30 pm. Items not picked up by 2:30 pm will be taken to Lost and Found at Information Point.
Items entered in the Exhibition will be attended by GNE war staff Arts and Sciences at all times. If you need a mannequin or other special equipment to properly display your item please bring that with you (we will provide exhibit tables/chairs only). We strongly suggest that all scrolls be framed, covered or protected in some way. Documentation is optional, however some sort of brief (one page or less) description of the item and its background, context, construction or use is encouraged.
Teen Night – Cattle Raid!
Saturday: 9 pm; Youth Point
Led by Lord Thomas de Marr
Teenagers use their cattle raiding skills in a capture the flag game in the dark. The flags are poor unsuspecting cows marked with glowsticks, and in true Irish fashion, it's the thrill of the raid that matters. And bragging rights . . . did I mention the bragging rights?!
Youth Classes
Hnefatafl!
Lady Embla Knútrdottir
Learn to play this fun Viking game with the whole family. This a family activity so bring your parents with you
Youth Point, Saturday 3 pm – 4 pm
Forest Shelters
Hrefna Hrodbjortsdottir
Learn to make forest shlters for your next family expedition! You will learn to make simple shelters and the skills needed. This is a family activity and parents must accompany their child.
Youth Point, Saturday 1 pm – 2 pm
More classes will be added as we get closer to the event.