To read about the policies on minors attending Great Northeastern War, please click here.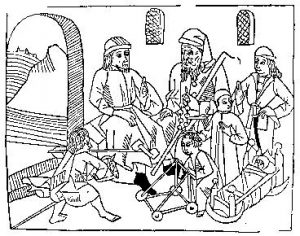 THURSDAY
3-4:30 Open Activity
8:45pm Teen Meet-Up: Capture the Sheep! (capture the flag style)
FRIDAY
9-10:30am Shields/heraldry and balloon swords
10am Youth Combat MIT meeting
Under 5 Thrown Weapons Tourney
11am Youth Combat Inspections
1pm Beginner Thrown Weapons
Youth- Learn to Sew
1-2:30pm Puppet Show & Puppet making
2pm Youth Combat Archery Shoot
3pm Youth Combat Tourney
SATURDAY
9-10:30am Weaving Activity 
10am Youth Water Battle (bring your water weapons and plan to get wet)
11am Youth Officer Roundtable
1pm Block Printing for Kids!
3pm Youth Combat Melee
FAMILY POINT
Located at the Merchant's Row side of the battlefield, Family Point will be the center for youth activities and family meetups. If you need something to do, swing by and see what we have available. We encourage Family Point to be the meet-up space for parents and kids to get together with other families. A parent/guardian/supervising adult/older teen will be required to stay with any child under the age of 10 at Family Point as well as throughout the event.
FAMILY POINT HOURS:
Thursday 2-6pm
Friday 9am-12noon & 1pm-6pm
Saturday 9am-12noon & 1-3:30pm (1 hr before Court)
Sunday packing up – not open for activities 
GREAT SHEEP GAME
Friday 9-6 & Saturday 9-3:30 A Huge flock of sheep has descended upon the fields of the Great Northeastern War! Whether the sheep are Stonemarche's lost flock, or someone else's, we need your help to gather them together before they cause havoc in the camps! Shepherds and Sheep Relocation Agents will need to sign up at Family Point to participate in the Great Sheep Game! You will find the sheep frolicking all over the site. Gather them up as a shepherd for points. Sheep Relocation Agents are there to help "bring the sheep out to graze" so that they don't get too hungry while we wait to find out who all these adorable sheep actually belong to!
ACTIVITY BLOCKS
Family point will offer various 1.5 hour activity blocks throughout the event. These activity blocks will have 2 or more activities in each theme and are fluid to allow families to come and go during that time period. We encourage late arrivals!
Thursday 3-4:30pm Open block- come visit us! 
Friday 9-10:30am Shields, basic heraldry, and balloon swords
Friday 1-2:30pm Puppet show! don't be late to watch the puppet show at the start of the block! Puppet making- learn to sew or use a paper bag.
Saturday 9-10:30am Weaving block – multiple types of weaving for beginners and above.
Saturday 1-2:30pm Block Printing and more
FAMILY MEETUPS
Are you interested in getting together with other toddler families? Maybe your shy school age child would like to meet others their own age, or your precocious Pre-K child needs to run around with others their age.
Suggested Family Meetups: (not staff supervised) 
Thursday 2pm Guardians & kids ages 9-12
Thursday 4pm Guardians & kids ages under 5
Thursday 6pm Guardians & kids ages 5-8
Friday 9am Guardians & kids ages under 5
Friday 11am Guardians & kids ages 5-8
Friday 1pm Guardians & kids ages 9-12
Saturday 9am Guardians & kids ages 5-8
Saturday 11am Guardians & kids ages 9-12
Saturday 1pm Guardians & kids ages under 5
GARB CLOSET
Please bring your kids outgrown lightly used garb over to family point and trade it in for a size that fits. Check to see what we have in your child's size. We currently have a limited selection, and it is a first come first serve basis.
YOUTH ART & SCIENCES EXHIBITIONS
Check out the A&S list for exhibition details. Please visit the Barn from 12-3 on Saturday to check out the Youth and adult entries.
YOUTH IN THE MARTIAL ARTS
Family Point will have printed information and forms for the Youth Requirements for Heavy List, Fencing, Archery and Thrown Weapons. Stop by anytime with questions and we will find someone with answers.
YOUTH ARCHERY
Ongoing, throughout the weekend, the Archery range welcomes youth over the age of 5 whenever the range is open. Please speak with a marshal about proper supervision.  All archery shoots are open to archers of all ages and abilities.
YOUTH FENCING
If your child is interested in Youth Fencing please stop by Family Point at any time throughout the event and we will do what we can to get you in touch with a Youth Fencing Marshal.  
YOUTH THROWN WEAPONS
Whether you are new to thrown weapons or an experienced arm, thrown weapons is available for people of all ages. No authorizations are necessary, and the range is open to anyone age 5 and older. Youths between the ages of 5 and 17 must be accompanied by a parent or legal guardian while the child is throwing — no exceptions. The adult accompanying the youth must be the parent or legal guardian, not another family member or friend. This will be strictly enforced. There will also be a 5 and under throwing event which will be posted in the schedule of activities.
YOUTH COMBAT 
Friday 10am Youth Combat MIT Meetings – If you are currently an MIT or wish to be one please come to discuss the rules, meet other marshals and ask questions of your Northern Regional YC Marshal. I would love to see everyone in person as our region is vast and our opportunities equally so!
Friday 11am Youth Combat Inspections – This is the time to come get in your armor, get inspected and see if you need to make any repairs or adjustments in order to compete for the tourney or fight in the melee. There is no time realistically to do last minute repairs before the tournament so use this time to your benefit!  We want to help you! 
Friday 2pm Youth Combat Archery: Youth 5 and up – Parents must supervise their young ones load their crossbows which will be fun for the whole family. Defend the field from charging knights who are armed with buckets of water and wet sponges. Don't let them get close enough to throw a wet sponge at you, YOU MIGHT GET WET! Using crossbows our ferocious youth must defend the field to the last man.
Friday 3-4pm Youth Combat Tournament – Bring your best look and your fighting spirit! This will take place on the Deed list field in full view of your many fans and supporters so come ready to have fun and show your skills! Who knows, your future knight may be watching.
Saturday 3-4pm Youth Combat Melee – There will be group tactics training for all divisions and then we will run a few scenarios to practice what we learned.
(Youth Combat loaner gear will be very limited if nonexistent. Please plan as if there will be none. For the melee unit work Saturday there will be some out of armor drills so everyone who wishes can participate and learn. As always, loaner gear does not include groin protection!)