To read about the policies on minors attending Great Northeastern War, please click here.
Great Northeastern War 31 will host many activities where all youth, age 17 and under, will be readied for preparation of service to King and Society. All of our young offspring will have the opportunity to assemble in friendship, fellowship and belonging. The opportunity to seek the way of arms and armor and / or, if they are a learned young mind, pursue arts, crafts or sciences!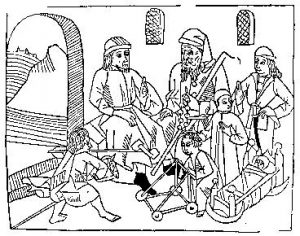 Volunteers are always welcome, and teens who would like to spend some time working in partnership with an adult supervisor would be especially helpful.
Per East Kingdom Law, children age 12 and under must be supervised at all times while attending SCA events. Certain activities may require that a parent or legal guardian be present during the activity. In addition to the activities listed here, many classes offered by the Great Northeastern University are open to students of all ages – please see the class listings for details.
Youth Point will be available throughout the weekend
as a collection point for Youth. There will be board and card
games available for use throughout the event on the tables and
I encourage people to use this as a safe space for youth. Bored
of the fighting or just watching? Hang out at youth point.
Parents trying to find your child? Check youth point. Youth
Point will only be manned by an adult at times there are
scheduled classes so please remember that YOU are still
ultimately responsible for your child. The idea is to create a safe
place kids can hang out at their own pace with their peers.
Youth Activities
Youth Service Initiative
This year, I challenge every youth at the Great
Northeastern War to take up this service initiative. By
performing deeds of valor, kindness, prowess and service, may
you all show us that which is the bounty of our wonderful
young folk. Sing a song, escort a Lord or lady to court, take
out trash, help a fighter carry his armor, fight chivalrously in a
tournament, be kind in all you do. Please see Info Point for
more information.
Youth Archery
Ongoing, throughout the weekend, Archery Range
Ongoing, throughout the weekend, the Archery range
welcomes youth over the age of 5 whenever the range is open.
Please speak with a marshal about proper supervision. All
archery shoots are open to archers of all ages and abilities.
Youth Thrown Weapons
Ongoing, throughout the weekend, Thrown Weapons Range
Whether you are new to thrown weapons or an experienced arm, thrown weapons is available for people of all ages. No authorizations are necessary, and the range is open to anyone age 5 and older. Youths between the ages of 5 and 17 must be accompanied by a parent or legal guardian while the child is throwing — no exceptions. The adult accompanying the youth must be the parent or legal guardian, not another family member or friend. This will be strictly enforced.
Quest Givers
Gather your gear, Adventurers, and make ready to go
questin' at GNEW! Quest-givers will be roaming the highways
and byways of Hebron Pines with missions for bold youth.
Look for the yellow belt favors with the purple exclamation
mark – this is a Quest-giver! When you find one, ask for a
quest. They will send you off on a journey to learn, help or
discover. Once you have completed the assignment, return to
the Quest-giver and receive your sweet reward! Quest-givers
have unique missions, and will be out at different times all
weekend. Try to find them all! Haven't found a Quest-giver and need a hint where to look? Check the GNEW Facebook
group for periodic updates on the latest sightings.
Youth Martial Activities Combat
Marshal In Charge: Yfir Donalsson
Location: Youth Field near Youth Point
Calling all young warriors! Friday will have pickups
and group tactics Culminating in a bridge battle. Saturday
morning shall be the Barrier of Might and a Tavern Brawl! Per
SCA rules, a parent or guardian must be present during all
youth combat activities. If you are a youth marshal, we would
love to have your help. Please contact Yfir Donalsson to
volunteer. Per East Kingdom rules, minors participating in
Youth Combat must either have a parent present at the
event/activity, or a responsible adult, designated by the parent,
present and in possession of a properly executed "Medical
Authorization Form for Minors" and a signed waiver as
needed. The medical authorization form must designate an
adult, present at the event or activity, as able to authorize
medical treatment in the case of emergency (a form of
temporary guardianship).
Complete East Kingdom Youth Armored Combat rules are available at this link.
Friday
9:00 – 12:00 – Youth Combat
1:00 – Youth Combat Archery
Youth 5 and up. Parents must help their young ones
load their crossbows which will be fun for the whole family.
Defend the field from charging knights who are armed with
buckets of water and wet sponges. Don't let them get close
enough to throw a wet sponge at you, YOU MIGHT GET
WET! Using crossbows our ferocious youth must defend the
field to the last man.
7:30 – Youth Combat MIT Meetings
If you are currently an MIT or wish to be one please
come to discuss the rules, meet other marshals and ask
questions of your Northern Regional YC Marshal. I would
love to see everyone in person as our region is vast and our
opportunities equally so!
Saturday
8:00 – 10:00 – Youth Combat
1:00 – Youth Water Battle
Youth water battle with Thalia (Hill by
the Barn). Bring your water guns loaded for war! There will be
a youth water gun battle at Youth Point, but you must bring
your own weapon of choice to compete!
Cattle Raid
9pm – At Youth Point.
Teenagers use their cattle raiding skills in a capture
the flag game in the dark. The flags are poor unsuspecting
cows marked with glowsticks and in true Irish fashion it's the
thrill of the raid that matters….and bragging rights……did I
mention the bragging rights?!
Volunteer War Point
This year will have 2 war points for Volunteering, one
for adults and one for children. When someone volunteers for
a staff member, they will be given a ticket. Tickets will be given
for every hour an adult volunteer (15 minutes for children).
Volunteers can then place the tickets in the side they support
at Merchant's Point. One War point will be given for Adult
Service, and one for Children. Tickets must be turned in by
the end of court on Saturday.
Youth Arts & Sciences Exhibition (War Point)
Saturday. Sign in at 10:00 AM; Exhibition 11:00 am – 2 pm.
Young Scholars and Artisans of the East are invited to
display their work in a Grand A&S Exhibition and compete
for a War Point with their effort! Each entrant will earn five
points for their declared side, and each comment card filled
out by a member of the populace will earn a point for the
commenter's side. These points will be added up, and
whichever side has the most points will earn a War Point for
GNEW! All members of the Populace are invited to bring
small tokens to gift to youths they feel have done exemplary
work, so that the youth of the East may better know that they
are part of the great community of artisans and scholars for
which the East is so well known! Children and youths of ALL
ages are most welcome to participate. This will be part of the
A&S display with a separate table for youth entries. Completed
or in-progress work of any variety is welcome, and
documentation is always lovely but never required! We'll have
some basic 'worksheet' style documentation sheets you can fill
in with basic information, if you have it in your head but not
on paper. If you were influenced by an existing piece, however,
bringing a photo of the work that inspired you is always a nice
addition to a display!
Youth Classes
O' to be a Knight!
Take a journey with Sir Marcus, discuss what you
believe it is to be chivalrous in both your SCA and mundane
worlds. Talk about what you want your experience to be and
how embracing the peer like qualities of the Society can help
us all achieve that, plus, there will be cookies! (Please see Info
Point for the time and location.)
Heraldry for Kids
A grand array of banners whip in the wind, the arms
of both friend and foe gather as they take the field of battle.
Master Alexander takes you through the basic steps of creating
your own personal arms. Materials provided. (Please see Info
Point for the time and location.)
More classes will be added as we get closer to the event.