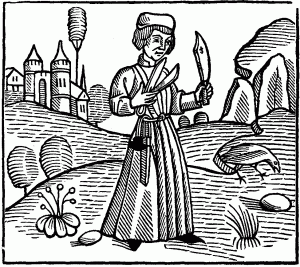 Thanks to the generosity of Lady Serafina Della Thanks to the generosity of our Marshals In Charge, Todd Moreau, the thrown weapons range will be open all weekend. Whether you are new to thrown weapons or an experienced arm, we will have something for you. We encourage everyone to bring their own weapons for throwing, and we plan to have a limited amount of loaner gear available.
Please visit the East Kingdom Thrown Weapons page for more information about range rules, royal rounds, weapons, and throwing technique.
No authorizations are necessary, and the range is open to anyone age 5 and older. However, youths between the ages of 5 and 17 must be accompanied by a parent or legal guardian while the child is throwing — no exceptions. The adult accompanying the youth must be the parent or legal guardian, not another family member or friend. This will be strictly enforced. 
Shoes or sandals MUST be worn at ALL times while on the range.
The thrown weapons range is located on the northern end of the site, to the left of the battlefield, off of Thunder Road.
There will be four war point shoots: Under 5, Youth, Adult and General Range Throw. Each thrower will have as many opportunities as they wish but may only submit their highest score. War point shoots can only be shot Thursday, Friday and Saturday. War Points will be open all times range is open.
Thrown Weapons Schedule
Thursday
12 pm to dusk – Range Open
Friday
10 am to dusk – Range Open
Thrown Weapons
Saturday
8:30 am – 9:45 am – Range Open
10 am – 11am.Under 5 tourney "Save the Royal Pets"=  1 War Point.
The vile pet napper "Leif the Thief" has made off with the Royal's pets. Stop Leif and his gang from making off with his spoils.
Contestants of the under 5 tourneys will be throwing a bean bag
11 am – 2:15 pm – Range Open for All
2:30 pm – 4:30 – Youth Tourney. 1 War Point.
4:30 to Court – Range Open for All
After Court to dusk – Range Open for All