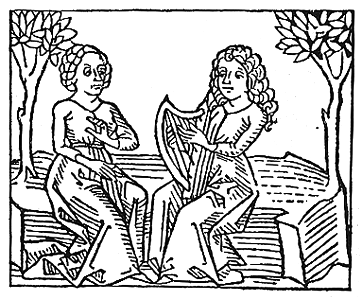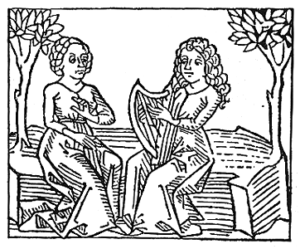 We are excited to again offer a broad spectrum of arts and science classes, activities, and competitions this year. Whether you are interested in learning a new craft, competing in the grand exhibition, joining a bardic circle, or having a late-night dance, there will be something for everyone!
Arts & Sciences Petting Zoo
Join us in Town Center, to spend time together in creative pursuit, or stroll through and see the wide variety of activities that people are up to. This is meant to be part demonstration, part inspiration… an opportunity for anyone to bring a portable craft to work on, visit with other artisans, or get a taste of what's possible in the A&S community that's different from what one might experience in a class or exhibition. Bring a chair or what you might need to be comfortable while working. See the schedule for when the Petting Zoo will occur.
Embroidery and Cord-Making Challenges – General & Youth
The Embroidery Challenge is a unique competition that challenges you to plan and complete an embroidered piece in a short amount of time. The embroidery kits for both adults and youth will be available at Info Point on Thursday and are first come, first served. Competitors will design and complete their work using only the materials provided and within a specified theme that will be revealed at the beginning of the competition. Participants will have until the end of court on Saturday evening to complete their piece. Please turn in your entry at the Main Barn. More information on who will receive entries will be provided when you pick up your embroidery kit.
The Cord Challenge allows those artisans who enjoy crafting narrow-work pieces to show their creativity! Competitors will design and complete their work using only the materials provided. The times and places of pick up and drop off of the kits will be the same as the Embroidery Challenge.
After judging the entries, the winners of both Challenges will be announced, and prizes awarded, at closing ceremonies on Sunday. Please provide your name with your entry and if you want your embroidery or cord back, please indicate that on the form provided with your contact information. For the embroiderers, please return all needles and hoops from the kits so we can continue this competition next year!
Bardic
Casual Bardics in Town Center; Period pieces, filks, originals, folk/traditional, poems, stories, absolutely anything goes! Please keep things short, a 10 minute time limit will be enforced if necessary. Friday evening will be pick-pass play, Saturday will be popcorn-style. If you are interested in performing and have questions, find Aalina Godwin for more information. We hope that your muse will inspire you to come play, sing, or recite. All experience levels are welcome and encouraged!
There will also be Bardic-related classes during the days, please check the class schedule for details.
Arts & Sciences War Points
There are many ways to contribute through A&S to help your side win the war! The Arts & Sciences War Points will be determined by the outcome of the competitions listed below:
Great Northeastern University
Teachers will earn five points for each class taught, and each student attending will earn one point. A sign-in sheet for each class will be available for teacher and students to declare which side of the war they want their points awarded to; the final tally of all points at the end of the University will determine which side wins the War Point.
The Potables Competition
The format of the competition is a round table where all entrants become part of the judging panel. Entries are limited to one submission per each of the following categories: Beer/Ale; Mead; Wine; Cordials/Other. If you are unsure of which category your entry belongs in, please ask upon arrival at the competition.
Documentation is not required to enter, or be scored, or have comments on your potable. However, be aware that part of the final score will include documentation, so it is encouraged. The judging criteria is sanctioned by the East Kingdom Brewers Guild, and this competition is considered "official." Please find the forms for judging on the EKBG website. Go to "Guild Documents" and "Competition Score Sheet."
Bring a clear tasting glass, a palate cleanser (such as bread or plain crackers), and water. Arrive early to fill out forms and enter. The competition starts promptly at 2:00pm. Due to time constraints, no entries will be accepted after that time.
Grand Exhibitions – General and Youth
The Grand Exhibition is open to all A&S related objects, projects, or research, finished or in-progress. Artisans and scholars of all skill and experience levels are encouraged to participate and contribute to the A&S war point!
Every entrant in the Exhibition will earn five points toward their declared side. At the close of the exhibition, the points will be tallied and the side with the most points will be awarded the war point.
The Exhibition will be open to the public for commenting on Saturday from Noon to 3:00 PM. Entries must be signed in at the Barn on Saturday between 10:30 and Noon, and must be picked up on Saturday afternoon between 3:00 and 4:00 PM.
We will provide exhibit tables and chairs, but if you need a mannequin or other special equipment to properly display your item please bring that with you. We strongly suggest that all scrolls be framed, covered, or protected in some way.
Documentation is encouraged but not required. There will be forms available at the registration table inside the Barn, to provide information about your work. Entrants may sit with their display to answer questions for some or all of the Exhibition if they desire, but this is not mandatory. All entries will be attended by staff during the duration of the display, but you are encouraged to note within your display whether viewers can touch your item(s).
All visitors to the Exhibition are encouraged to leave comments to individual entries and bestow their tokens on any entry they find to be exemplary.
Arts & Sciences Schedule
Thursday
All Day – Great Northeastern University Classes
Friday
All Day – Great Northeastern University Classes
8:00 am – Embroidery and Cord Kits available for pickup at info point
8:00 pm – Malagentian New Moon Balle at the Main Barn
Saturday
All Day – Great Northeastern University Classes
10:00 am – 11:00 am – Grand Exhibition registration opens at the Main Barn (both adults and youth)
11:00 am – 2:00 pm – Grand Exhibition display open for viewing at the Main Barn
12:00 pm – Largess challenge available for viewing at the Main Barn (time is approximate)
1:30 pm – Potables Competition Sign-In Opens in Classroom 5
2:00 pm – Potables Round Table Judging Begins in Classroom 5
2:00 pm – 3:00 pm – Grand Exhibition item pick-up at the Main Barn (please pick up any items you have left at the A&S tables by 3:00 pm)
4:30 pm – Royal Court begins at the Main Barn
End of Court – Embroidery and Cord Challenges End, turn in entries at the Main Barn
Sunday
No A&S is scheduled this day. We hope you enjoyed the war and we will see you next year!